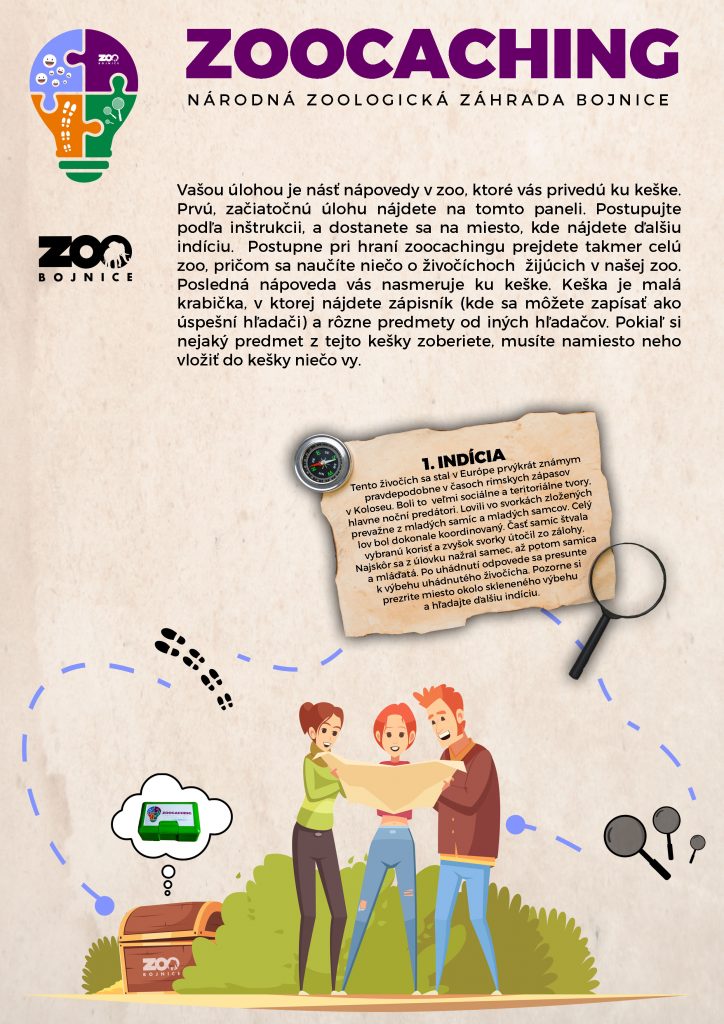 Od júla štartujeme pre vás hru zoocaching.
Baví vás dozvedieť sa niečo nové a zároveň sa pri tom zabaviť?
Prídite si vyskúšať hľadanie kešky pomocou indícií, ktoré sme pre vás ukryli v zoo.
Kto ju nájde ako prvý?
Vašou úlohou je nájsť nápovedy v zoo, ktoré vás privedú ku keške. Prvú, začiatočnú úlohu nájdete na tomto paneli. Postupujte podľa inštrukcii, a dostanete sa na miesto, kde nájdete ďalšiu indíciu. Postupne pri hraní zoocachingu prejdete takmer celú zoo, pričom sa naučíte niečo o živočíchoch žijúcich v našej zoo. Posledná nápoveda vás nasmeruje ku keške. Keška je malá krabička, v ktorej nájdete zápisník (kde sa môžete zapísať ako úspešní hľadači) a rôzne predmety od iných hľadačov. Pokiaľ si nejaký predmet z tejto kešky zoberiete, musíte namiesto neho vložiť do kešky niečo vy.
Chceš odmenu? Odfoť sa s nájdenou keškou a pošli nám fotku buď na:  Instagram zoobojnice, Facebook ZOO BOJNICE, alebo email sutaz@zoobojnice.sk a čaká ťa odmena. Výhercu vyžrebujeme v septembri 2021
Výherkyňou letnej súťaže v hľadaní kešky sa stala pani Liana Heráková Juhászová. Gratulujeme.
1. INDÍCIA
Tento živočích sa stal v Európe prvýkrát známym pravdepodobne v časoch rímskych zápasov v Koloseu. Boli to veľmi sociálne a teritoriálne tvory, hlavne noční predátori. Lovili vo svorkách zložených prevažne z mladých samíc a mladých samcov. Celý lov bol dokonale koordinovaný. Časť samíc štvala vybranú korisť a zvyšok svorky útočil zo zálohy. Najskôr sa z úlovku nažral samec, až potom samica a mláďatá. Po uhádnutí odpovede sa presunte k výbehu uhádnutého živočícha. Pozorne si prezrite miesto okolo skleneného výbehu a hľadajte ďalšiu indíciu.
Clue number 1
This animal became first known in Europe, probably during the Roman matches at the Colosseum. They were very social and territorial creatures, especially night predators. They hunt in groups composed mainly of young females and young males. The whole hunt was perfectly coordinated. Some females chased the selected prey and the rest of the group attacked afterwards. The male has eaten from the catch as first, then the females and young ones. Once you complete your answer please move on to the yard of the guessed animal. Carefully check space around the yard and look for another clue.
Úspešní riešitelia: